I've relished the opportunity to stay within the Four Seasons in Milan since I began planning my trip. Even though I've considered myself a hotel connoisseur for years, it doesn't take much more than opening the door to your room to understand this is top of the line accommodations.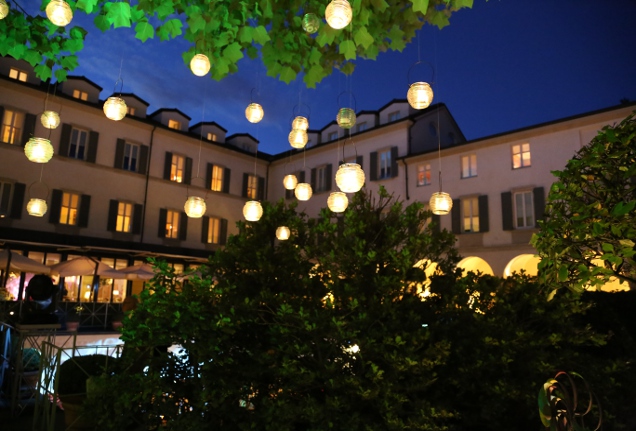 The building itself used to be used as a monastery, the natural history giving it some rich character. It's hard to gauge how elegant the interior is from the street view, you're immediately greeted with gorgeous artwork and statues in the entryway. The staff was super accommodating and got me checked in fast so I could run off and explore.
I started my tour with the versace garden in the middle of the compound. If you don't get a room overlooking this gorgeous area, many of the common areas of the hotel have great viewing areas. Here some of the most lusciously green vegetation is moonlit by beautiful bubble lights. It's no wonder this area of the hotel frequently plays host to fanciful weddings.
As for my quarters, I had the luxury of staying within the Designer Suite which is a luxury room even by Four Seasons standards. My room carried a quiet and distinct brand of modern European chicness, reminding me of some of the most impressive Terracotta and Victorian architecture I'd ever seen.
The highlight was dimming the lights of the room and drawing myself a bath in the massive porcelain tub. I grabbed myself a bottle of wine earlier in the frantic motion of the city and had the staff deliver it, slightly chilled. Originally I was planning on reading but instead, I just soaked up the atmosphere and pretended to know the little nuances in the wine.
Read more about my trip to Milan, including how I packed for my trip