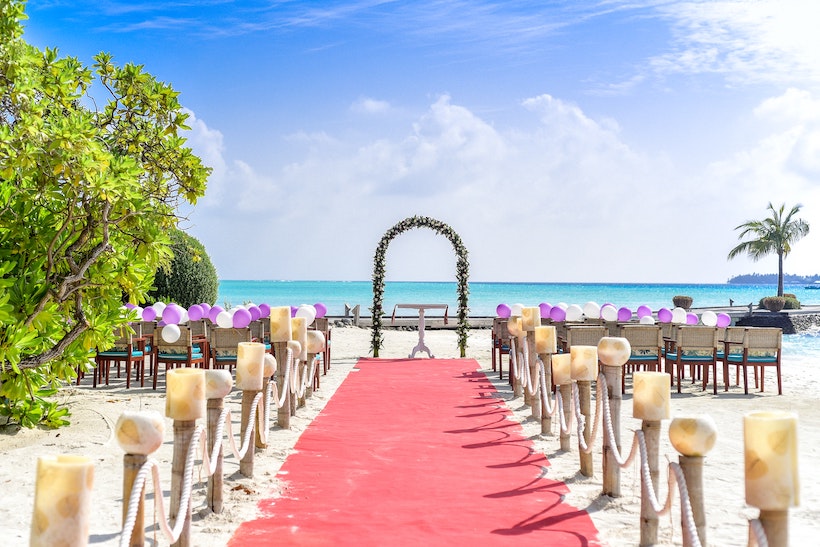 Have you always imagined getting married on one of Goa's picture-perfect beaches? Now is the time to turn it into a reality. Learn more about how to make the most of your ideal wedding in Goa by reading this article. Doesn't the image of exchanging your wedding vows on the soft, silvery sand as the sun sets over the Arabian Sea conjure up images of your perfect fantasy wedding? Having all of your loved ones there to celebrate with you while you live out your fantasy would be possible with a beach wedding in Goa. Imagine having your friends and family join you for a celebration that lasts for an entire week at one of the most breathtaking destination wedding sites India has to offer.
However, greater planning obligations accompany more ambitious dreaming. The process of arranging a wedding may be very taxing, what with having to hire wedding vendors, book wedding venues, and make arrangements for all of the events. But don't worry about it too much! Follow our lead to make your wedding on the beach in Goa a spectacular affair while avoiding the burden of planning it!
Share your ideas with planners regarding wedding Decor
It is possible that you will need to spend between INR 8 and 12 Lakhs on the decoration of all of the activities associated with a wedding that will have approximately 200 guests. We recommend that you reduce the amount of money you spend on wedding decorations by selecting items that can be utilised for more than one occasion, such as lighting, flowers, and a photo booth. The truth is that the wedding design is one area in which you actually have some control over the price. You must also be very particular while finalising and booking the best budget banquet hall in Goa. The costs of the pre-wedding rituals might be reduced significantly if you choose to have modest decorations rather than elaborate ones. Ferris wheels, photobooths, a vintage and quirky yellow scooter as a prop, hats, birdcages, flowers, and simple banners are some of the elements that are employed to add pzazz to her daily activities. These elements are typical of Goan beach weddings.
Pour your Heart out while Packing
If you are heading to a beach wedding in Goa, then you will definitely need to pack a lot of things (and carry them with you). You just cannot afford to run the chance of forgetting something and, as a result, going over budget. When taken all together, the items on your Goan packing list would consist of your wardrobe and makeup for each wedding occasion, as well as your trousseau, bridal jewellery, and return wedding gifts. In addition to these things, you should make sure that you have packed all of the necessary items for a day at the beach, such as sunblock, umbrellas, hats, scarves, and sunglasses, for both you and your guests.
Fun Travels
Since you are already in Goa, why don't you invite your close friends and family members to join you for a short vacation after the wedding? Get aboard a bus to visit the wonders of the area while simultaneously participating in the traditional game of Antakshari. You might also chat to the local transportation about the possibility of renting bicycles and going on enjoyable trips to various churches and beaches. You should make the most of the opportunity presented by having your wedding on the beach in Goa.
Time for some Fun Games!
On a beach wedding in Goa, this is the moment that everyone is looking forward to the most. The enjoyable games for the wedding! The following are some extremely fun suggestions for games that the bridesmaids and groomsmen can play on the beach: Beach volleyball and Frisbee competitions, tug of war, cartwheel and hula hoop challenges, all-you-can-eat and drink challenges, beer pong challenges, and sand sculpture competitions are just some of the activities that will be offered. Also, add some entertaining awards and gifts at the end of the beach games to make them more interesting for everyone.
Keep up well with the Vendor Selection Process
You should have some understanding of the criteria that the planner uses to select a provider. This will assist you in ensuring that you have the very best vendors present on the day of your wedding. Because of this, a crucial issue for a wedding planner to inquire about from the bride and groom is the criteria they will use to select providers for their special day. There is a good chance that the planner will have a network of favourite vendors with whom they work the majority of the time. What factors do you consider while deciding which vendors to work with? Will there be opportunities for us to participate in the selection of the vendor? If so, in what way?