Like a doggie in the window, the glimmer of Harrods London, with its big beady eyes makes you wish you had a fist full of dollars to take it home. If you're unfamiliar, Harrods is pretty much on the same level as Saks 5th Avenue or Neiman Marcus here in the states—super fancy expensive stuff. Level after level of designer duds, ogling tourists, and bored sales people are swarming around like beers inside the hive.
It is a big place, definitely not for the people who are used to that down-home friendly market vibe; here you're bound to feel poor and under appreciated  Well at least for someone not carrying a Gucci bag with a loyal manservant in tow. Harrods in London has some of the most hot-ticket department store items you can find.
So, let's say you're not entirely made of money, how can you have the full Harrods experience? First of all, take the escalators up and down the whole thing: there are beautiful murals and artwork donned around the central escalators. You can get off wherever and oogle at nice things, then jump back on: the last floor is full of touristy things like little stuffed Westie dogs which are the mascot, and other British junk souvenir stuff, okay, some of it is pretty cute, I admit.
Then when you're done, you've probably worked up an appetite, or you're feeling emotionally drained from all the stuff you can't afford—just take a trip down to the lower and enter the marketplace. Picture a giant room of chocolates, macaroons, candies, sweets, cakes, and more. You have hit the mother load. Much of my time was spent merely marveling at all the different things which people had for sale, there are plenty of counters to buy at, so you don't have to wait too long get those blood sugar and serotonin levels up. There are markets for other things as well, seafood (not the best smelling one), tea, and restaurants are all over the place.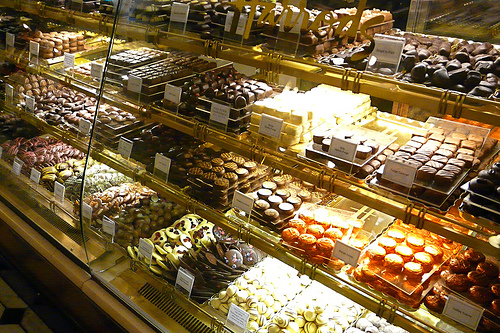 I really love high fashion, so it's always cool to see some of these brands like Commes des Garcons or Dior and be able to touch it and feel the fabric, really look at the detailing and appreciate art. Sometimes I wish I didn't have expensive taste though, that's all.