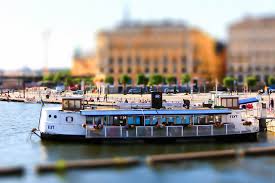 Ah, how wonderful it's been so far in Stockholm, Sweden. My time here thus far has been beyond incredible and it seems to be getting better with every passing day.
Because there has been such fantastic weather, I decided to check out some of the outdoor activities the city has to offer. One of the coolest activities I found was drinking on a pontoon boat. Apparently drinking on a parked pontoon boat is a fairly popular pastime in Stockholm: many retired war boats now sit permanently docked and are used as restaurants and bars.
The coolest one I found was definitely Flyt (which means "float" in Swedish) which was right by the Slussen docks near Gamla Stan. From what I found online, the boat actually sank during a hurricane back in 2005 and was replaced.
I made my way over to Flyt and as I approached the boat, I could see TONS of people piled together. Part of me was disappointed as I was hoping to grab a few drinks alone, but I quickly decided to throw all previous plans out the window and accept the adventure that was ahead of me.
Flyt was filled with a decent mix of tourists and locals. I grabbed a drink at the bar and made my way to the back of the bar to sit and watch some boats pass by while I gathered some courage to actually try and be social. It wasn't long before I turned around and saw a group of girls looking awkward as well, so I decided to introduce myself in hopes that we could all be awkward together.
The girls ended up being from London and were here on holiday. They were at the bar because they were ditched by the guys in their group who ran off to a Dinosaur museum. I decided to put some of my skills to the test and helped the girls talk to some pretty cute local boys that were just stopping by the bar for a quick drink before walking around the city. Once my match making was complete, the entire group left Flyt and I was again on my own.
I sat for a bit longer, drinking enough to work up a serious appetite, so I made my way back into town to grab a quick bite to eat. Who knows what tonight will have in store! I'm honestly up for anything. Stockholm has been treating me nicely and I don't see that stopping anytime soon!