Falling in Love with the Map of Germany, Bremen Architecture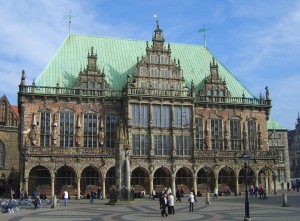 The sheer amount of things to do in the city of Bremen is overwhelming for any first timer. Just prior to my arrival, my inbox was flooded with travel tips from friends who'd either studied abroad near Bremen or spent years living in Germany – big thanks goes out to those who filled out my travel itinerary.
My first visit was to the nucleus of the city, the grand town hall. Over 600 years in age, this Weser Renaissance-style cultural icon is easily one of the most magnificent buildings I've ever seen. The town hall is considered the crown jewel of Bremen, a place where locals come to congregate. People sporting sunglasses hazily drift past along the street on their bicycles as tourists flock to take photos.
It was all I could do to stop staring at the magnificent architecture and actually venture inside. Overhead, terrific models of German schooners hang from the vaulted ceiling, sailing across the open air as they traverse the outstretched arms of the delicate chandeliers in their wake.
At the risk of cheapening the experience, the only feeling I can relate to standing inside the town hall was considering all the times I fantasized about being a Disney princess dwelling in my palace. It's a bit surreal to consider that Bremen's town hall was in operation long before the name 'Cinderella' or 'Snow White' would ever reach our collective consciousness.
Later that afternoon I found myself in the Böttcherstrasse, considered the craft and souvenir center of Bremen. To say this area of the city was bustling would be an understatement; shaded patrons casually sipping out of porcelain glasses seated in front of the cafés, mothers wearing floppy sunhats clutching the hand of their children as they walk through the market, street vendors calling out their wares along the beaten narrow streets. Suddenly I felt like one of the locals, wholly immersed in the city environment.
Gorgeous brick buildings lined the streets, many of which had intricately designed iron cast bannisters overflowing with plants and flowers. The design of this area gives Bremen's massive marketplace the feel of a sophisticated urban epicenter, the type of ambience people would kill to replicate but simply couldn't – this level of authenticity sets the bar impossibly high.
I constantly find myself falling in love with Germany as a whole and Bremen showed me a whole new side I'd never seen before. I may not ever leave.