Street art in London, it's just one of those things that seems to go together so well, just look at Banksy, international prankster and artist. Around here you can find some pretty spectacular pieces, if you know where to look. Due to the CCV cameras and fuzz patrol there isn't as much as you'd expect, at least much of the Banksy in London is safeguarded by locals who see an increase in business based on the cheeky and thought-provoking artist.
I took a trip over to Cargo bar in Shoreditch, which is essentially the less scary part of East London. Actually, it had a very Brooklyn-esqe vibe to it. Young twenty somethings having beers on their balconies, and funky little bars peppered throughout the streets made it feel way more do-able than Kensington. I could totally see myself living here and riding the tube into the heart of London every day, but that may come at a later point in my life.
The Cargo bar is a real treat, after going into countless pubs which all seem to blend together after a while, this had a different feel. The lights were a dim pink, and Christmas lights were hung around the place. Live music was happening in the next room, which you had to pay for, but I was way more content just people watching and getting some of their fancy house drinks.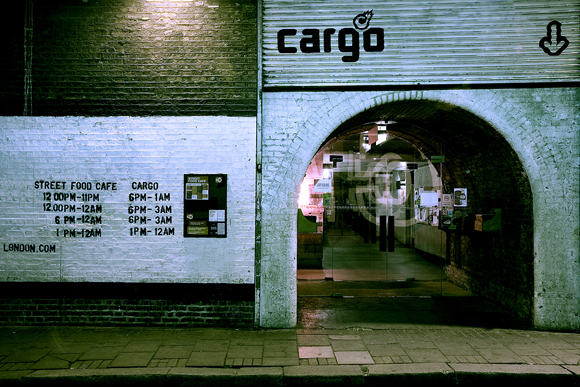 This is one of the best spots to find street art in London, as the owners of this fine establishment embrace Banksy and proudly display his original work on their walls. There was an art show when I was here and it was really great, lots of neat pieces and people looking at them. The outside patio was full of young artsy types; it was a real nice change of pace. I'm really glad I went off the beaten path to find this little gem, maybe my lucky streak keeps up like this I'll see Banksy in London doing his thing!