So I was recently informed from a reader that Carnaby Street apparently has some past, kind of similar to San Francisco's Haight-Ashbury in its cultural relevance. The Carnaby Street 1960s vibe was a cool one, swinging London was in full effect, and union jacks hung from every store, go go boots were everywhere…just look at this youtube video I found.
So much vibrancy and charm–seriously, it's a bit disheartening to look at stuff like this and then look at it now, and it feels like it's been completely taken over by corporations, much like Haight-Ashbury is pretty much just a mall with some head shops now. I guess you just have to accept that things are different now, and advertisers are always on the pulse of what's "cool" and "underground" so as to make everything hipsters dig the new thing to market after. Like Buddy Holly glasses/Raybans, good lord, I can't even stomach looking at another tool in those stupid things, and it's somehow like "cool nerd" chic. WHAT.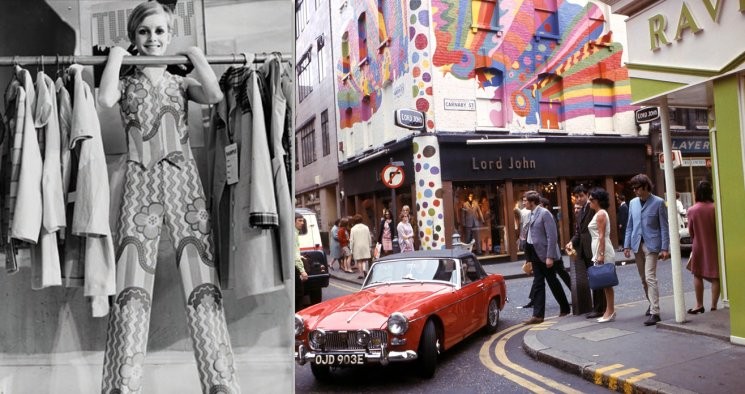 ANYWAY, Carnaby street was also a large area where the skinhead movement first began, as a reaction to the more glitzy glamour of the swingin' sixties. Working class kids dressed clean, in shiny boots, Fred Perry polos, sweaters, braces, and pressed pants. The original skinheads were not racist, but rather enjoyed music like reggae and ska–influenced by Jamaican rude boys. Now, there's many different interpretations of what it means to be a skinhead, but this will always be the true and original definition.
I wish there were more nice fellows there with no hair and a Ben Sherman button-up there, but alas, I mostly saw just hoards of semi-hipster sort of yuppie looking fools. Most of the skins I have seen have been in Camden and East London. Speaking of which, I really need to do a post about Shoreditch and Islington hipsters; I feel like I'm back home in Williamsburg or something.