I was feeling better today, a lot better, I'd say I'm 95% now, and I think that's close enough to being able to brave crowds and drink strange beverages without hating yourself, right. I finally had the Borough Market Grilled Cheese that I had been dreaming about, and my god, it was heaven.
Now, the British are not popular for their culinary delights, as most of it falls under that, meat and potatoes with not a whole lot of flavor category. But the British know how to use cheese,whether it's a stilton and broccoli soup or a badass sandwich–the dairy here is lightyears beyond scary American factory farm cheese.
Anyway, the place is called Kapparcasein, and they've been serving up these tasty grilled cheese  sandwiches for over a decade now at Borough Market. Perfectly served up in crispy buttery bread, the cheeses offered are pretty phenomenal–I can't even pronounce the cheese I had, but it was loaded up with potatoes and pickles, soooo delish!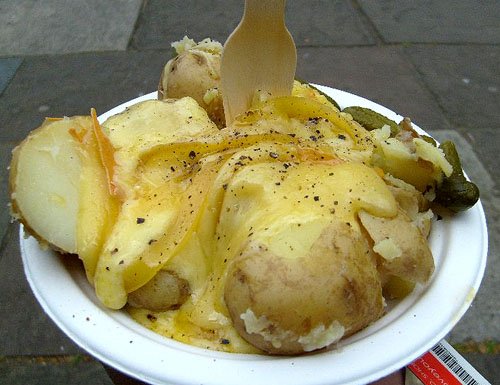 Seriously, if you're looking for some authentic London street food, you definitely need to go to Borough and get some of these ridiculously delicious sandwiches. Perfect for hangovers, the blends gooey cheese with greasy toasted bread is ideal for soaking in all that booze from last night, for five pounds! Street food is becoming a necessity, as my wallet hurts from spending so much at restaurants and on drinks. If I made money in the pound, it would be awesome, but I have the dollar, so it's basically worth nothing here.
Anyway, just to hate myself even more, I picked up some ice cream over by the London Bridge, and walked around. My friends and I also decided to go to the extremely underwhelming dungeon museum, which was about as exciting and fun as a vacation with your parents to your Aunt Susan's house. Would not recommend. I did get a silly picture of my friends though: