I am a self-professed foodie, and when I heard that one of the world's prime pig-0ut destinations was in London, I knew that I had to get on that, stat. How have I never heard of Borough Market? I don't know, I also have never seen Titanic, so it's really not entirely surprising I suppose. Anyway! This place is said to be chock full of spices, wines, beers, food carts, and other interesting food-related swag. I heard that Borough Market has the best grilled cheese in the world, IN THE WORLD.
So I went to Borough Market on Sunday with my buddy Robert Nevin Medicis from Scottsdale, Arizona and an empty stomach–on a mission for good food. There were a lot of people out and about, it was a pretty happening place. I guess this is one of those tourist destinations that I was unaware of, it felt like I was back in America–kind of depressing. Anyway, an accordion and fiddle played serenaded a corner of the market where I munched on a vegetarian quinoa burger, and did some people watching. The line for the famous grilled cheese was a little too long, and I wasn't feeling 100% today. I plan to go earlier next time, with full health and a mission to get that sandwich.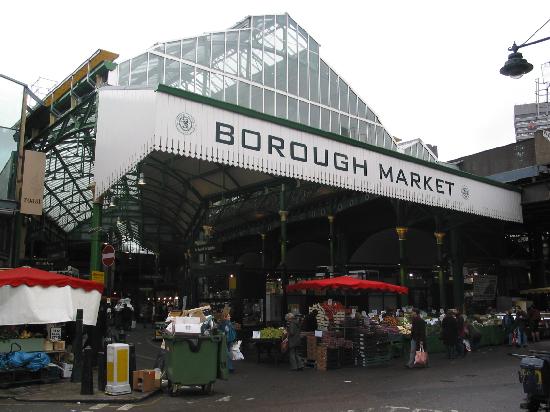 There were rows and rows of homemade spices, cooking utensils, oils, breads and other food related goodies at the market. Several stalls full of beers and wines too–I started off the day with a wine spritzer to lift my spirits, and then had a Punk IPA from one of the little stalls. I even decided to try homemade cider from a man with a big burly beard, I was really excited, but homemade cider doesn't seem to be as good as the bottled kind. It was pretty flat and lacking in sweetness, I think I'll stick with Strongbow.