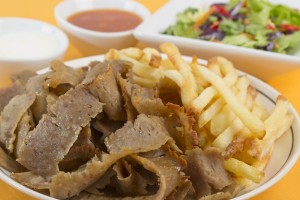 Ireland, Germany and now France! Needless to say this has been a crazy couple of weeks and I have learned a lot about myself and different cultures. This time I decided to skip the flight and use the EU-Rail. I haven't had much time to sleep as I have been exploring the cities so much. As soon as I jumped on the train I had a single beer and slept for a solid 8 hours, which is crazy because usually I can't sleep on any form of transportation.
The train arrived in Paris at around noon and took a cab to my hostel.  This one is probably the nicest, "hippest" hostel that I have spent the night in since my big "euro-trip" began.
The 3 Ducks Hostel had everything that I have been craving from a hostel. USB plugs, FREE wi-fi, a bar and get this…. hairdryers in every room. For so long I have been waiting in line to use a hair dryer with other tourists impatiently tapping their foot behind me.
Anyway! After dropping off my things, it was time to grab some coffee and plan out the rest of my day. I stopped by the nearest bistro, this little place called La Cuillere en Bois which served the most delicate crepes that I have ever had.
I'm sure most places in France serve similar crepes but this was my first experience I went a little crazy on the chocolate chips! After filling up on chocolate and getting my first parisian coffee. I decided to walk to the most cliched place in all of Paris; the Eiffel Tower of course.
I could see the tower peaking out from above the skyline and just started walking in that direction. The plaza was littered with tour groups, families with children on leashes, and idiots having sword fights with baguettes.
I decided to just hangout at the bottom as I don't have the patience, money or will to climb to the top. Besides I'm afraid of heights anyway!
I head back to hostel and met some new friends. We grabbed some kebabs and wine. I wasn't particulary fond of the company so I called it an early night. Hopefully, tomorrow will be more interesting!