I do a lot of freelance work, and lately, well…the well has dried up a bit, so I've been living on my cash reserves. Which, when you're an American in London, it can be pretty crappy having a slim wallet with big pounds (badum-chh). Needing to stretch my money, I have been eating cheap in London so as to not become the cockney British orphan begging for soup. I also love food too much to eat clif bars and fast food everyday. No thanks.
Beatroot Cafe – This central London cafe has a lot of healthy and cheap food, with an international flair. Yes, you don't have to sacrifice your health when you're living on a budget. I grabbed some quinoa taboullah and some spirulina balls which kept me going all day. They also have some reasonably priced juices and teas too, so, for about the price of a coffee I got a nice fresh carrot, apple, and ginger juice. Prices here are so reasonable, my salad was like five pounds, will certainly return when I'm in the neighborhood.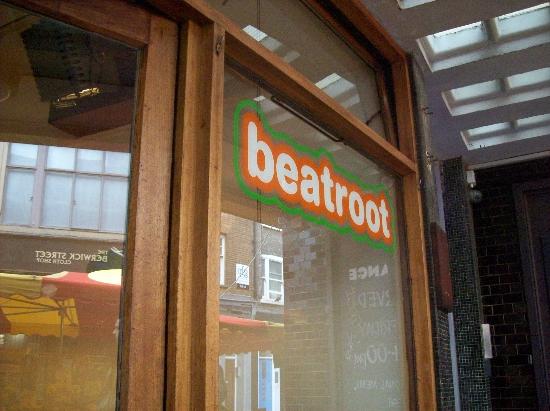 Dosa n' Chutney – I am a huge dosa fan, which is how i found this cheap East London eatery. Luckily, there is a lot of really good, and fairly priced Indian food in London, this place is no exception. They have two menus: one for vegetarians and one for non-vegetarians, so it's a great place to bring both meat eaters and herbivores alike. Only one pound for a samosa and 3.50 for a Masala dosa? Oh my my. I was so full.
Byron – Proper Hamburgers; the sign didn't lie. For about eight pounds I got the veggie burger which was delicious, almost as good as the one at Archangel (which is the best). It was a portobello mushroom with goat cheese, roasted red pepper, spinach and a lovely aioli. SO GOOD. It's not insanely cheap, but it's less than a tenner so I'm into that.